The Word of God
---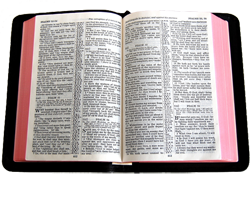 The Holy Scriptures, Old and New Testaments, are the written Word of God, given by divine inspiration through holy men of God who spoke and wrote as they were moved by the Holy Spirit. In this Word, God has committed to man the knowledge necessary for salvation. The Holy Scriptures are the infallible revelation of His will. They are the standard of character, the test of experience, the authoritative revealer of doctrines, and the trustworthy record of God's acts in history. Fundamental Beliefs
Internal Testimony
The Ten Commandments are the "Word of God" according to Christ in Mark 7:7-13. (See vs 13).
Peter tells us that because the Bible writers are inspired by the Holy Spirit, that which they spoke (or wrote), they "spoke from God" 2 Peter 1:19-20, and so it is not a matter of this or that individual's private interpretation or preference.
In 1 Thess. 2:13, Paul informs us that when the saints of the New Testament age were hearing the inspired teaching of the Apostles, they did not take it as merely "the word of men," but rather for what it was, "the Word of God."
2 Peter 1:20, 21; 2 Tim. 3:16, 17; Ps. 119:105; Prov. 30:5, 6; Isa. 8:20; John 17:17; 1 Thess. 2:13; Heb. 4:12
| Title | Source | Author | Type | Size |
| --- | --- | --- | --- | --- |
| The Word of God | How to Give Bible Readings | Home Missionary Department | | 313 KB |
| God's Revelation to Man | Bible Doctrines | O. A. Johnson | | 115 KB |
| Men and the Book | Bible Lectures | Albert Mitchell | | 125 KB |
| Voltaire's False Prophecy | Bible Lectures | Albert Mitchell | | 160 KB |
| The Bible; Its Divine Inspiration | Bible Lectures | Albert Mitchell | | 126 KB |
| Prophecy, the Bible's Acid Test | Bible Lectures | Albert Mitchell | | 145 KB |
| The Witness of Skeptics | Bible Lectures | Albert Mitchell | | 122 KB |
| The Bible and the Space Age | The Bible and the Space Age | Walter Scragg | | 514 KB |
| The Difference; the Bible and other Classics | Bible Lectures | Albert Mitchell | | 171 KB |
| The Sacred Scriptures | The Bible Made Plain | Pastor Pollok | | 121 KB |
| The Bible | Bible Readings for the Home Circle | Home Missionary Department | | 062 KB |
| The Scriptures | Bible Readings for the Home Circle | Home Missionary Department | | 023 KB |
| God's Message for Man | The Bible Speaks | W. L. Emmerson | | 170 KB |
| The Bible, the Spirit of Prophecy, and the Church - Part I | The Bible, the Spirit of Prophecy, and the Church | W. E. Read | | 339 KB |
| Your Bible - Unsullied History | The Bible's History | George Burnside | | 066 KB |
| The Study of the Scriptures | Christian Beliefs | T. H. Jemison | | 165 KB |
| The Holy Bible | Day by Day | F. M. Wilcox | | 029 KB |
| The Holy Scriptures | Facts for the Times | G. I. Butler | | 248 KB |
| The Perfect Guide | Facts of Faith | Christian Edwardson | | 167 KB |
| The Faithful Witness | The Faithful Witness | Sharon Thomas Crews | | 449 KB |
| The Holy Scriptures | Fundamental Beliefs | General Conference | | 161 KB |
| The Foundation of Divine Truth | Fundamentals of Bible Doctrine | A. J. Weaner | | 034 KB |
| The Object and Authority of the Scripture | Fundamentals of Bible Doctrine | A. J. Weaner | | 015 KB |
| The Word Is of God | Fundamentals of Bible Doctrine | A. J. Weaner | | 026 KB |
| The Scriptures | God Answers Your Questions | W. L. Emmerson | | 97 KB |
| Why Do Men Need the Bible | God Speaks to Modern Man | A. E. Lickey | | 140 KB |
| Is the History of the Bible True? | God Speaks to Modern Man | A. E. Lickey | | 130 KB |
| Are the Prophecies of the Bible Reliable? | God Speaks to Modern Man | A. E. Lickey | | 142 KB |
| What About Noah and the Flood? | God Speaks to Modern Man | A. E. Lickey | | 129 KB |
| What Men Say about the Bible | God Speaks to Modern Man | A. E. Lickey | | 122 KB |
| What the Bible Is | God Speaks to Modern Man | A. E. Lickey | | 271 KB |
| Questions About the Bible | God's Answers to Your Questions | R. D. Vine | | 099 KB |
| The Scriptures a Safeguard | The Great Controversy | E. G. W. | | 059 KB |
| Man and His Books | Highway to Happiness | C. Paddock | | 023 KB |
| Man's Predictions | Highway to Happiness | C. Paddock | | 029 KB |
| The Book for Modern Man | Know Your Bible | Pacific Press | | 161 KB |
| The Guidebook for Adventurers | Life Begins with God | M. L. Neff | | 033 KB |
| The Word of God | Basic Bible Beliefs | Arnold Constantinescu | | |
| The Law of Growth | Life of Victory | Mead Maguire | | 021 KB |
| The Book that Speaks to Our Day | Our Day in the Light of Prophecy | W. A. Spicer | | 158 KB |
| Our Infallible Bible | Our Infallible Bible | George Burnside | | 111 KB |
| The Word of God | Pegs for Preachers | Chas Inglis | | 029 KB |
| The First Stage | Pilgrim's Progress | John Bunyan | | 035 KB |
| My Confession of Faith | Planet in Rebellion | George Vandeman | | 095 KB |
| Treasures in Clay | Planet in Rebellion | George Vandeman | | 074 KB |
| The Value and Inspiration of the Scriptures | Practical Lessons fro the Experience of Israel | Fred C. Gilbert | | 246 KB |
| Preach the Word | Review and Herald | E. G. W. | | 079 KB |
| The Bible - Only Rule of Faith and Practice | Questions on Doctrine | Leroy Froom | | 013 KB |
| The Bible | Real Myths and False Realities | Carol Humphreys | | 165 KB |
| Bible | Source Book for Students | Review and Herald Publishing | | 622 KB |
| The Study of, and Attitude Towards, the Bible | Source Book for Students | Review and Herald Publishing | | 100 KB |
| Catholic Opinions of the Bible | Source Book for Students | Review and Herald Publishing | | 077 KB |
| Confessions of Fatih on the Bible | Source Book for Students | Review and Herald Publishing | | 080 KB |
| The Credibility of the Bible | Source Book for Students | Review and Herald Publishing | | 083 KB |
| The Bible Compared with Other Sacred Books | Source Book for Students | Review and Herald Publishing | | 074 KB |
| Eulogies of the Bible | Source Book for Students | Review and Herald Publishing | | 077 KB |
| Inspiration of the Bible | Source Book for Students | Review and Herald Publishing | | 083 KB |
| Popes on the Bible | Source Book for Students | Review and Herald Publishing | | 078 KB |
| The Bible the Rule of Faith | Source Book for Students | Review and Herald Publishing | | 084 KB |
| The Scriptures | Source Book for Students | Review and Herald Publishing | | 085 KB |
| Tradition | Source Book for Students | Review and Herald Publishing | | 309 KB |
| The Two Witnesses | Source Book for Students | Review and Herald Publishing | | 309 KB |
| Back to the Bible | This Mighty Hour | Arthur Maxwell | | 109 KB |
| The Scriptures | Torrey's New Topical Textbook | R. A. Torrey | | 067 KB |
| The Whole Gospel to the Whole World | Towards the Dawn of Better Times | H. W. Loe | | 084 KB |
| The One Priceless Book | Typical Evangelistic Sermons | Frederick Lee | | 172 KB |
| The Ultimate Resource | The Ultimate Resource | Doug Batchelor | | 206 KB |
| The Holy Scriptures | What Jesus Said | H. M. S. Richards | | 029 KB |
| What the Word Does for Me | What the Word Does for Me | | | 194 KB |
| Who Is Adding to God's Word? | Who Is Adding to God's Word? | Larry Kirkpatrick | | 160 KB |
| The Word of God | Nave's Topical Bible | Orville J. Nave | | 091 KB |